What's New:
Royal Rangers History
November 1, 2021
Do you have any history for your activities at outpost, sectional, district, regional, or national events for 2021 or before? We would love to get a copy and get it posted on the history site. Whether is it Pow Wow packets, FCF packets, posters, documents, patch scans, staff listings, etc. All history for your district and section can be posted. Please contact Mark Oliver and it will get updated quickly. We ask that patch scans/photos be a minimum resolution of 300x300. If you take a photo, please put one patch per picture and take the photo close to the patch so we get it up close.
Current News:
Updates
November 22, 2021
It is not too late to earn the 2021 Contributor patch. There are a few patches remaining as of November 1st. Read how to earn one here.
Site Support:
This site is managed by the North Texas Royal Rangers on behalf of and is the exclusively authorized history site of the national Royal Rangers ministries office, Springfield, MO. Contacts for this site include Mark Oliver and Jonathan Trower.
National Flame of Honor Recipients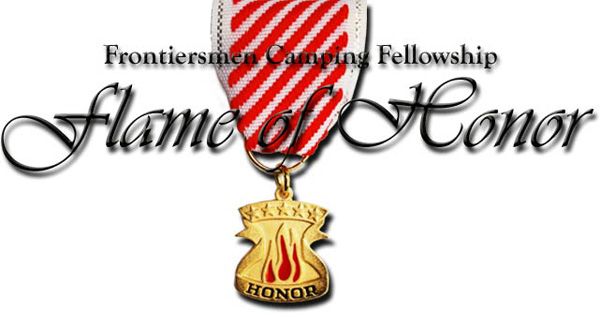 In 1994, the National FCF Executive Committee facilitated the creation of a new award, the FCF Flame of Honor. This award was created to recognize those who had made outstanding contributions to advance the cause of the Royal Rangers and/or the FCF ministry. This award is authorized by the National FCF Executive Committee and is awarded only after the application has been thoroughly reviewed and deemed worthy of being awarded this level of honor.
In authorizing the Flame of Honor, it is the intention of the National FCF Committee, with approval from the National Royal Rangers Council that it shall be given as recognition, from the FCF, for:
Unselfish acts of heroism, for service dedication and devotion to the FCF purposes, or to the goals of Royal Rangers, or to the advancement of Christianity, or for the betterment of mankind.
These could be single acts, a series of deeds, or a lifetime given for service to others. Consequently there is no hard, fast criteria that a person must meet to qualify for the Flame of Honor. Indeed there is nothing that a person can do specifically to earn it. If, in the eyes of the person making the recommendation, the person being recommended had exhibited exemplary conduct that would serve as inspiration to others, then he may qualify should the committee concur. The acts may be unheralded or they may command headlines.
Below is a listing of all those who have been bestowed with the FCF Flame of Honor
Kansas
Ohio
Southern Missouri
Louisiana
Tennessee
Pennsylvania-Delaware
Rocky Mountain
Tennessee
Louisiana
Peninsular-Florida
Indiana

Bobby Wright (Posthumously)

Ohio
Southern Missouri
Ohio
Arizona
Northern California/Nevada
Rocky Mountain
Northern California/Nevada
Ohio
Northern California/Nevada
Pennsylvania-Delaware
Northern Missouri
Alaska
Alabama
Tennessee
Southern Missouri
Potomac
Puerto Rico
Peninsular
Northern California/Nevada
Georgia
Illinois
Southern Missouri
Iowa
Peninsular-Florida
Illinois
Southern Missouri
Southern Missouri

Ray Hobbs, CEO Daisy Outdoor Products

Arkansas

Matthew McPherson, CEO Matthews, Inc.

Wisconsin/N. Michigan

Steve McPherson, President Matthews, Inc.

Wisconsin/N. Michigan
Southern Missouri
Southern Missouri
Puerto Rico
Louisiana

Perry Siddle (Posthumously)

Southern Missouri
Southern California
Wisconsin/N. Michigan
Alabama
Peninsular-Florida
Southern Missouri
Southern Missouri
Georgia
South Carolina
New York
West Florida
Peninsular-Florida
Ohio

Clyde Andrews (posthumously)

Alabama

2013

Northern Missouri

2013

Northern Missouri

2013

Alabama
Oklahoma

2015

Pennsylvania-Delaware
Peninsular Florida
70
James Warfel
2017
Georgia
71
Javier Chevres
2818
Puerto Rico
72
Ted Schmidt, Jr.

(Posthumously)

2018
New Mexico
73
Ted "Oak" Schmidt III
2018
New Mexico
74
Sid Bean
2019
75
Wesley "Fire Eagle" Kilcrease
2021
North Carolina
Photo
76
Alan "Chipmunk" Gell
2021
North Texas
77
Rex "Miami" Chaney
2021
Northern California/Nevada
Info
78
Ralph Williams
2021
South Texas
79
John Hembree
2021
80
John "Highland" Robinson
2021
Alabama
Photo
81
Jonathan "Big Foot" Trower
2021
North Texas