What's New:
Royal Rangers History
November 1, 2021
Do you have any history for your activities at outpost, sectional, district, regional, or national events for 2021 or before? We would love to get a copy and get it posted on the history site. Whether is it Pow Wow packets, FCF packets, posters, documents, patch scans, staff listings, etc. All history for your district and section can be posted. Please contact Mark Oliver and it will get updated quickly. We ask that patch scans/photos be a minimum resolution of 300x300. If you take a photo, please put one patch per picture and take the photo close to the patch so we get it up close.
Current News:
Updates
November 22, 2021
It is not too late to earn the 2021 Contributor patch. There are a few patches remaining as of November 1st. Read how to earn one here.
Site Support:
This site is managed by the North Texas Royal Rangers on behalf of and is the exclusively authorized history site of the national Royal Rangers ministries office, Springfield, MO. Contacts for this site include Mark Oliver and Jonathan Trower.
Historical Heritage
Our History & Heritage
Royal Rangers is a church-based mentoring ministry for future men. Since its inception in 1962, millions of boys in the United States and around the world have been guided through the ministry. Today, they are successful businessmen, public servants, pastors, church leaders, missionaries, etc.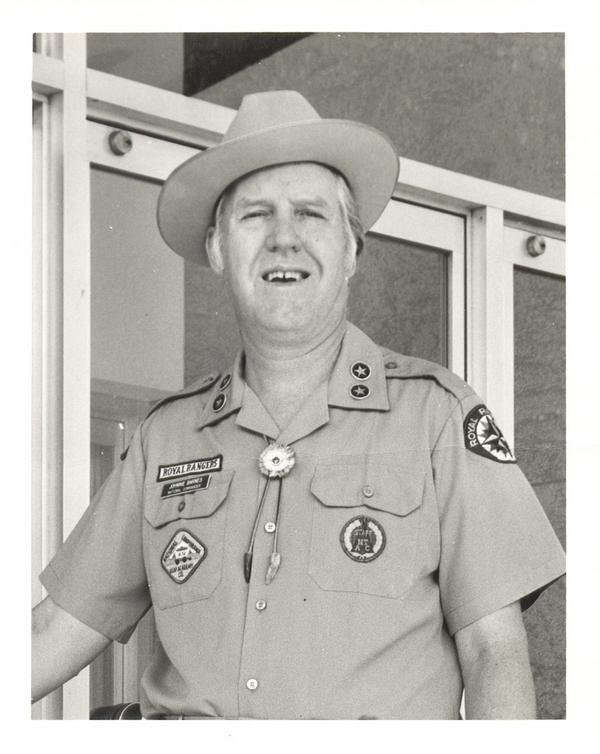 Johnnie Barnes
Founder & first
National Commander

1962
In January, Rev. Johnnie Barnes, the Assemblies of God youth director from the North Texas district, is invited by the Executive Presbytery to birth a new ministry for boys and young men. Rev. Charles Scott suggested the name Royal Rangers, and Johnnie Barnes is appointed as national commander.
1963
The Royal Rangers Leadership Training Course (LTC) is developed to train leaders to disciple future men.
1964
The first district-wide camps (then called Pow Wows) are held. The Gold Medal of Achievement, Royal Rangers highest achievement, and the Medal of Valor, awarded to men and boys who risk their own lives to save the life of another, are first offered.
1966
Frontiersmen Camping Fellowship (then called a Fraternity) is formed, offering boys and young men the opportunity to relive America's frontier past. The first Royal Rangers week is held in October to spotlight the Royal Rangers ministry and honor its members in churches across the nation. Royal Rangers ministries are established in Latin America and Asia.
1968
The first National Training Camps (NTC) for Royal Rangers leaders are held in the states of California, Colorado, Missouri, and New York.
1972
The first national event, a National FCF Rendezvous, was held near Springfield, Missouri.
1974
The first National Camporama, a camping extravaganza that now attracts thousands of boys every four years, is first held at the Air Force Academy in Colorado Springs, Colorado.
1977
The National Royal Rangers Council is formed and meets in Springfield, Missouri. To this day organizational leaders continue to gather annually for instruction, fellowship, and inspiration.
1978
The second National Camporama was held in Farragut, Idaho
1982
The third National Camporama was held in Pigeon Forge, Tennessee.
1986
The National Royal Rangers Training Center near Eagle Rock, Missouri, is dedicated. The 1,400-acre center is often referred to as Camp Eagle Rock.
1989
Beloved founder, Johnnie Barnes, dies after leading the ministry from its inception for twenty-seven years. Rev. Ken Hunt is named national commander, and he guides the ministry skillfully for ten years.
1990
The fifth National Camporama is held at Camp Eagle Rock.
1994
The sixth National Camporama takes place at Camp Eagle Rock
1998
The seventh National Camporama is held at Camp Eagle Rock.
1999
Rev. Richard Mariott is appointed national commander, and he ably guides the ministry for eight years.
2002
Royal Rangers International is started to establish, strengthen, and serve Royal Rangers development around the world. Today, Royal Rangers is active in over 70 nations.
2006
The ninth National Camporama is held at Camp Eagle Rock
2007
Rev. Doug Marsh is appointed national director. His vision is to "Take Royal Rangers to the iPod® Generation" by helping current and potential leaders enjoy ministerial success by mentoring future men, offering them and their churches a simple and flexible yet robust and relevant ministry to boys and young men.
2012
The tenth National Camporama and fiftieth anniversary celebration takes place at Camp Eagle Rock.
2014
Rev. Karl Fleig becomes the fifth national Royal Rangers commander.
2016
The eleventh National Camporama is held at Camp Eagle Rock.
2020
The twelfth National Camporama is held at Camp Eagle Rock. (POSTPONED DUE TO COVID19)
2022
The twelfth National Camporama is held at Camp Eagle Rock (rescheduled from 2020)
50th Anniversary History Magazine
Produced in 2012 in celebration of our 50th anniversary; this magazine provides a survey of growth of Royal Rangers from 1962 to 2012. Read it today.