What's New:
Royal Rangers History
March 9, 2020
This project is now a few years old. However we still need your help to keep it up to date. Do you have any history for your activities at outpost, sectional, district, regional, or national events for 2020 or before? We would love to get a copy and get it posted on the history site. Whether is it Pow Wow packets, FCF packets, posters, documents, patch scans, staff listings, etc. All history for your district and section can be posted. Please contact Mark Oliver and it will get updated quickly. We ask that patch scans/photos be a minimum resolution of 300x300. If you take a photo, please put one patch per picture and take the photo close to the patch so we get it up close.
Current News:
Updates
March 9, 2020
We have received the 2020 Contributor patches. Are you working towards receiving it? Read more on the home page about how to earn one.
Site Support:
This site is managed by the North Texas Royal Rangers on behalf of and is the exclusively authorized history site of the national Royal Rangers ministries office, Springfield, MO. Contacts for this site include Mark Oliver and Jonathan Trower.
Eagle Rock Campgrounds
National Royal Rangers Commander Ken Hunt and National FCF President Fred Deaver display the official proclamation from the Assemblies of God headquarters that the debt on Camp Eagle Rock was paid in full at the 1994 National Camporama. This document was then stuffed into the FCF cannon and fired out as the official mortgage burning of the camp.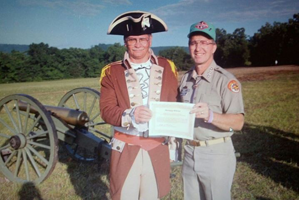 Early photos of the Johnnie Barnes Lodge being built. (click on each photo to see the large version). If you have additional information about these photos ore more Johnnie Barnes Lodge history, please send it to history@ntxrr.org.
Patches for Eagle Rock