What's New:
Royal Rangers History
November 1, 2021
Do you have any history for your activities at outpost, sectional, district, regional, or national events for 2021 or before? We would love to get a copy and get it posted on the history site. Whether is it Pow Wow packets, FCF packets, posters, documents, patch scans, staff listings, etc. All history for your district and section can be posted. Please contact Mark Oliver and it will get updated quickly. We ask that patch scans/photos be a minimum resolution of 300x300. If you take a photo, please put one patch per picture and take the photo close to the patch so we get it up close.
Current News:
Updates
November 22, 2021
It is not too late to earn the 2021 Contributor patch. There are a few patches remaining as of November 1st. Read how to earn one here.
Site Support:
This site is managed by the North Texas Royal Rangers on behalf of and is the exclusively authorized history site of the national Royal Rangers ministries office, Springfield, MO. Contacts for this site include Mark Oliver and Jonathan Trower.
National Commander - Johnnie Barnes
Many lives have changed because of his dedication to the Royal Rangers Ministry.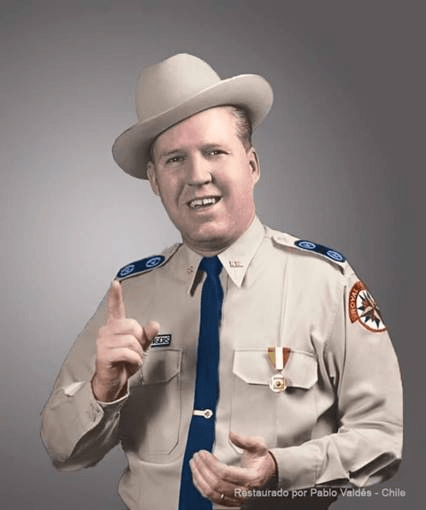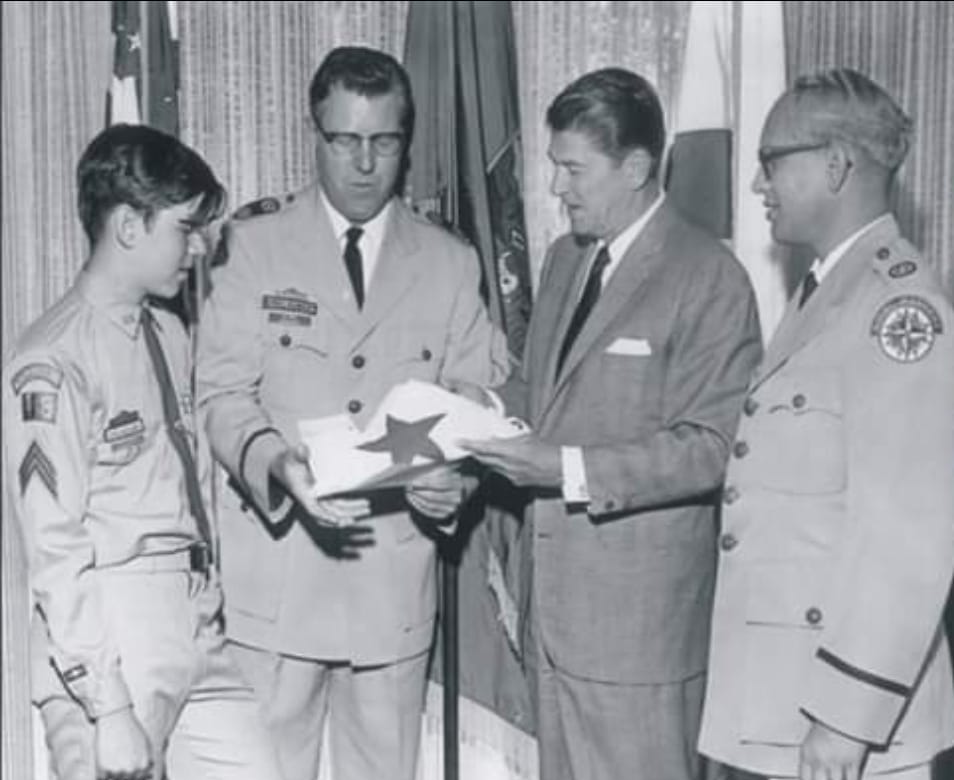 In the world of Royal Rangers, this is a pretty well known photo. The individuals pictured in the photo most everyone knows- L to R David Barnes, Johnnie Barnes- founder and first National Commander of Royal Rangers, President Ronald Reagan (at the time of this photo he was Governor of California) but who is the last guy?
His name was Herb Ellingwood, and this moment in Royal Rangers history is credited to him. Herb was a local Royal Rangers leader at his church Bethel Temple Assembly of God in Sacramento, California. Herb also served as a member of the Northern California/Nevada district staff. But how in the world does a Royal Ranger leader arrange a meeting with the Governor of California? That's the best part of the story.
Herb Ellingwood was born in Colorado and moved to California as a baby. He grew up in the bay area and in high school became friends with a young man who attended high school in another town named Edwin Meese.
Ellingwood and Meese would go on to attend college at Yale university, and then both went on to law school. Ellingwood went to Stanford Law school, and Meese to UC Berkeley. They both remained in Northern California as they continued their friendship and started practicing law. Eventually Edwin Meese would become Governor Reagans Chief of Staff. Herb would become deputy counsel and advisor to Governor Reagan.
Herb through the assistance of Edwin Meese arranged for Commander Johnnie Barnes to meet Governor Reagan at the California Capitol in Sacramento where Governor Reagan presented Johnnie with a California state flag. He even joked with David Barnes that the RR collar pins actually stood for Ronald Reagan and not Royal Rangers. This was the summer of 1968.
In later years, Herb was a part of the Pasadena Prophecy in 1970 that was given over then Governor Reagan that if he would follow the Lords commands he would move to 1600 Pennsylvania Avenue.
When President Reagan moved to Washington, Herb went with him to serve as a deputy White house counsel and Chairman of the US Merit Systems Protection Board. He was very involved in developing the National Day of Prayer into what it is today.
And Herbs friend Edwin Meese? He would go on to become Attorney General of the United States.
During the 25th anniversary celebration for Royal Rangers in 1987, President Reagan in a congratulatory letter to Johnnie Barnes stated that he wished there were more men like Johnnie that were willing to work with the boys and young men of America.
In his later years Herb Ellingwood would join up with Pat Robertson in his presidential bid for the Republican nomination.
Commander Ellingwood passed away in March of 1998 in Reno, Nevada.
This photo was taken at the first Australian National Camporama of Johnnie and Juanita Barnes in 1977.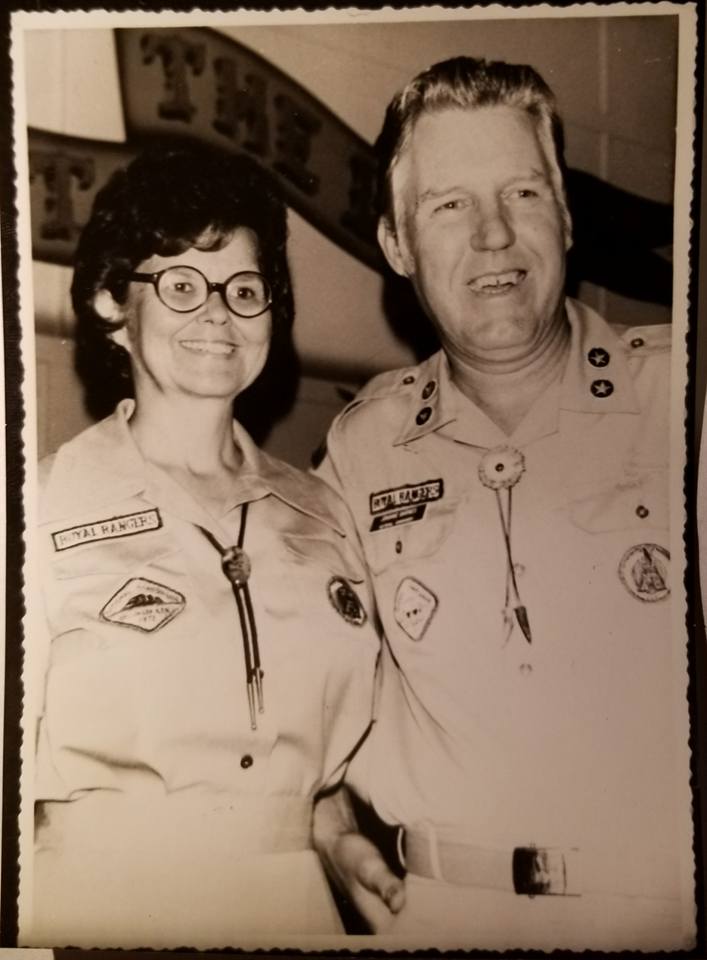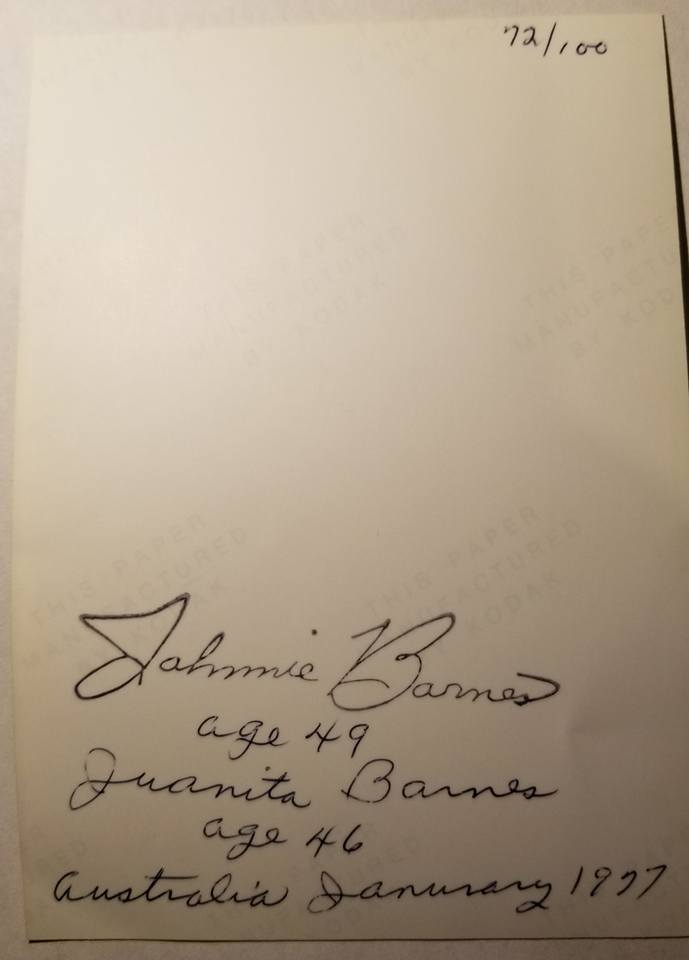 August 6, 1989 Pentecostal Evangel, Page 14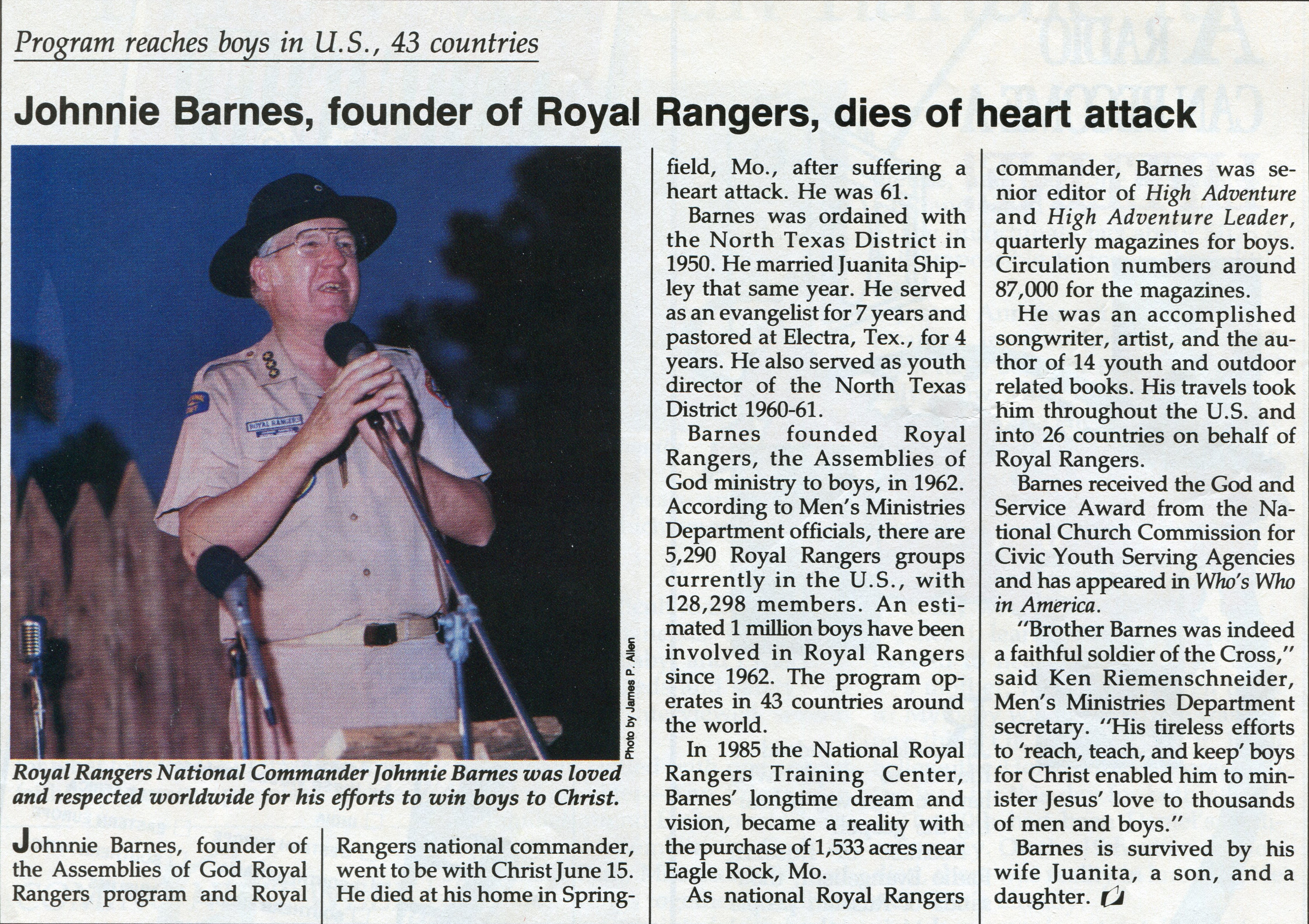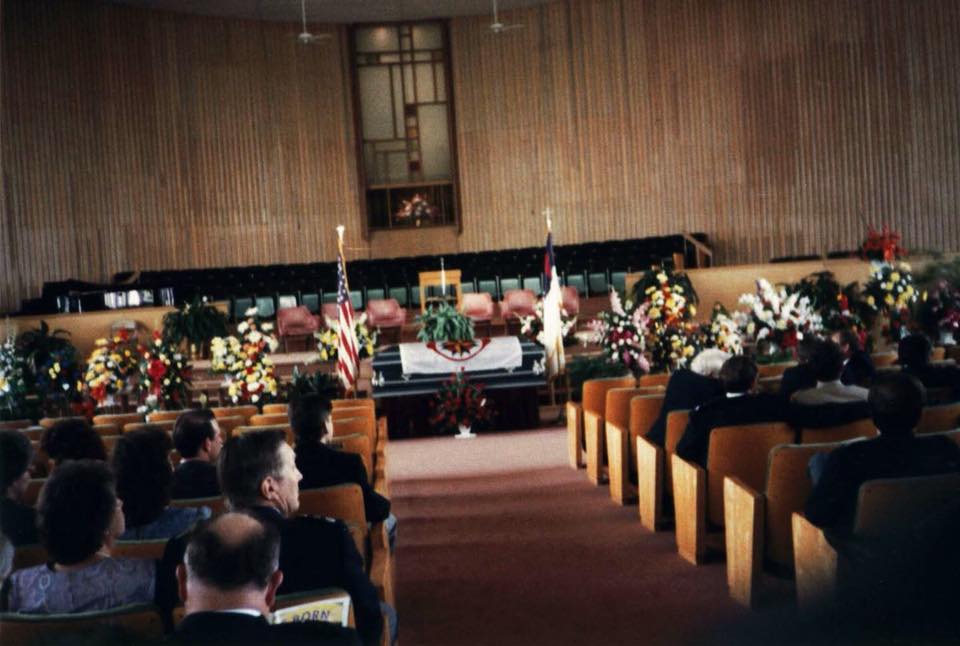 Burial Location
Johnnie Barnes is buried in a cemetery in Springfield, Missouri. The cemetery is located at Grand and Jefferson. The GPS coordinates for the grave stone are N37° 11.6020° and W93° 17.4515°
Documents
Newspaper Articles
1989 Johnnie Barnes at Oklahoma Pow Wow
Just One More Altar Call – June 14, 1989
It was an historic day for Oklahoma Royal Rangers: the first day of the first Pow Wow at our new campground, Rangerland, outside of Chandler, OK.
For me personally, I was staying in the FCF Village. I was also part of the Service Patrol and a leader of the Color Guard. It was a big deal for me, a fifteen-year-old boy.
We were celebrating the 75th anniversary of the Assemblies of God and the 100th anniversary of the 1889 Oklahoma Land Run. We had a Land Run at 2:00 pm where outposts ran across the campground to stake a claim to their new campsite.
To finish the monumental day, we were in for a treat. Johnnie Barnes, our national commander, was going to preach the first Pow Wow Council Fire sermon at Rangerland. Excitement was everywhere.
Commander Barnes spent time throughout the late afternoon talking to everyone he could. I was honored to shake his hand, as I had a few times before. He was such a hero to me as he was to many others.
As it got dark, we gathered in the FCF Village for Council Fire. After a great time of singing and fun, our district commander, James Eubanks, introduced Johnnie Barnes to a standing ovation.
Commander Barnes had not felt well but he had one more message and one more call to the altar for this night. He spoke about the power of God's Word and how it changed the heart of a young man who was a member of a band of outlaws in the Indian Territory. That young man ended up with a Bible and left the outlaws to return to his family in Missouri, just like the Prodigal Son. It was told in a way only Johnnie Barnes could tell. My most vivid memory of the night was the altar call. Thirty-seven boys found Salvation that night.
That Council Fire was a fitting end to such a great day.
Johnnie Barnes returned to Springfield the next day, Thursday, June 15. At about 6:00 pm, he had a heart attack and died at home.
At camp, after the service Thursday night, I could tell the staff had just finished a serious conversation. I was told that my bigger than life hero, Johnnie Barnes, died early that evening. It was very late so they were going to wait to make the announcement at Friday's Morning Assembly.
As a leader of the color guard, I always posted the American Flag at Morning Assembly, but not this morning. I grabbed the Ranger Flag with determination. I had to raise the Ranger Flag in his honor. Even today, I cannot put into words the honor and connection I felt raising that flag that morning.
As I reflect on this video, that camp, and the man named Johnnie Barnes, I pray the ministry of Royal Rangers meets its mission around the world. Whether it's to Reach, Teach, and Keep boys for Christ; or to Evangelize, Equip, and Empower the next generation, I pray the influence of Royal Rangers raises to new heights as boys of today learn to become the Godly men and Godly leaders of tomorrow.
I don't want to be half the man Johnnie Barnes was. I ask God for a double portion of his ministry success upon today's leaders as we prepare a new generation of Ranger leaders for another double portion of our success.
Thank you, Johnnie, for the honor of being a part of your ministry legacy.
Ronn Cunningham, Oklahoma Royal Rangers